Spec-D Headlights
February 8, 2023
Headlights by Spec-D are extremely popular among car enthusiasts in the USA and Canada. This is one of the most popular headlight manufacturers in North America. This manufacturer offers custom lighting solutions for the most popular vehicle applications in these areas. If you are wondering, whether Spec-D has got headlights, tail lights, or fog lights for your vehicle, most likely they do.

Aftermarket headlights by Spec-D are available in a wide range of color and design options. So if you are looking for a cost-effective lighting solution for your car or truck, you can consider Spec-D.
Spec-D headlights: design and configuration
Spec-D offers several headlight design options to meet the needs and expectations of American drivers. They are available with tinted or clear lenses and with chrome or black housing. The combination of these elements allows Spec-D to create a fully custom or OE-style headlight assembly for the major vehicle applications. Except for the plastic parts, Spec-D headlights are available with different accessory lighting solutions. Here are some of the accessory lighting this manufacturer uses in their headlights development:
LED accents;
LED strips;
LED halo rings;
CCFL halo rings;
U-bars.
Spec-D Headlights: Features and Specs
There are different SPEC-D headlight applications. See the Spec-D headlights comparison chart below
| | | |
| --- | --- | --- |
| Lens color | clear | tinted |
| Background | chrome | black |
| Focusing type | projector lens | reflector |
| Accents | LED | incandescent bulbs |
| Halo rings | LED | CCFL |
| Turn signals | incandescent bulb | plasma switchback |
| Assembly type | sealed beam | splittable assembly |
| Exterior lens | plastic | polycarbonate |
Spec-D Projector Headlights
Many of the Spec-D headlights feature a built-in projector lens for the low beam. Such headlights are called projector headlights. If they come equipped with the halo rings, they are listed as halo projector headlights. Spec-D headlights focus on the light coming from the bulb, which acts as a light source. If that is the headlight type you are interested in, make sure you use the right bulb type to ensure proper visibility on-road and safe drive.
If your vehicle features factory HID bulbs, make sure the aftermarket Spec-D headlight description says the lights are designed for the HIDs. Otherwise, you risk getting that dangerous glare and poor visibility at night. Spec-D headlights that are not noted as the ones to work with HID (xenon) bulbs are designed to work with the halogen bulbs of the pre-specified bulb size, which usually does not correspond with the OE bulb size.
Spec-D Halo Headlights
Installation of halo headlights is a cost-effective way to customize the front fascia of any vehicle, so no wonder, that Spec-D halo headlights are that popular among American car owners. Spec-D employs 2 main angel eyes technologies in their products: CCFL and LED halos. Some headlights feature 2 built-in halo rings, some feature only one halo per headlight assembly. Both technologies ensure lasting service and custom look, yet CCFL angel eyes give a more moderate glow, while LEDs are way brighter. Halo headlights by Spec-D are available in 3 major design options:
Black Spec-D halo projector headlights feature black housing and clear lens;
Chrome Spec-D halo headlights feature chrome-plated plastic housing and clear lens;
Smoke Spec-D halo headlights have got chrome background and tinted lens.
Spec-D Fog Lights: Overview
Spec-D is one of the leading manufacturers of aftermarket lighting in the U.S., so they offer not only headlights but also custom fog lights for the most popular makes and models. In their selection, Spec-D has a variety of styles and designs of fog lights. The simplest fog lights feature the same design as stock fog lights. When marked as 'euro' in the product description, fog lights do not have the bulbs in the kit and are supposed to be used with the OE bulbs. Projector fog lights feature a built-in projector lens in each fog light. It ensures precise focusing. Though, it is a must to adjust the fog lights properly to benefit from them in rainy or foggy weather.
How to adjust Spec-D halo headlights?
Spec-D strongly recommends adjusting headlights once they are installed on the vehicle. It's fair to say, that all aftermarket headlights are adjusted the same way. Each light assembly has got adjustment screws at the back. The light direction is adjusted by rotating these screws.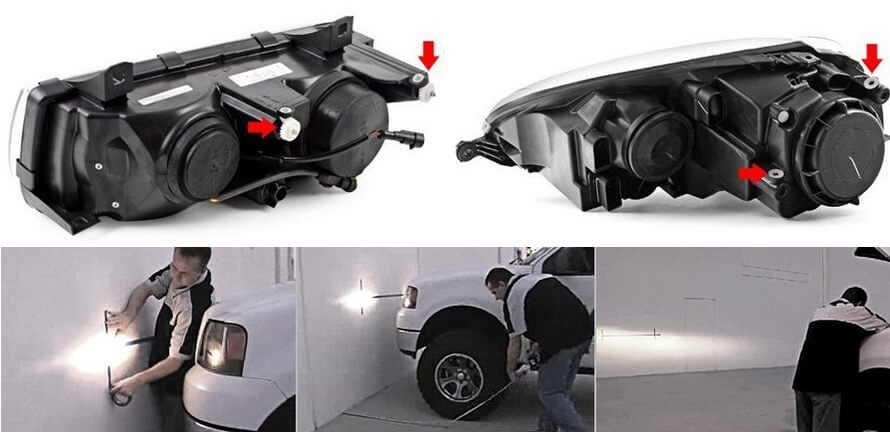 ABOUT
Steven is a certified mechanic and technical writer at Halo Headlights. Steven is excited about fast cars, loud music, and car mods. On yearly basis, he visits SEMA, as well as other car shows. He has installed thousands of HID and LED kits and did hundreds of custom headlight retrofit projects. Now, he is ready to share his experience with Halo-Headlights.com readers. If you have questions for Steven, just ask your question using the form.
---
Spec-D Headlights Reviews
Headlights
Average rating:
6 reviews
May 5, 2020
Location (Sity, State):
Navarre
No diagram in adjusting headlight.
Jan 7, 2020
Location (Sity, State):
Farmington, NM
Would be nice if the instructions gave you the adjustment screw layout. Trial and error sucks. Diagrams make it easy.
Oct 11, 2019
Location (Sity, State):
State College, Pa.
I've bought the "tuning" series for my focus, LED DRL Switch Back Smoked w/ Black housing. They look awesome compared to the OEM ones, but......
To say they're true DRL/ Switch Back is a misnomer. A OEM switch Bck will kill the white running light while the amber turn sig blinks then back on for the white LEDs after the turn/flasher, mine blink amber then to white (back and forth) while activated also comes with an additional amber turn light that Flashes while activated probably due to the brightness compared to other stock DRL/Switch Bck on today's cars witch are very BRIGHT! The fitment is great the look again is GREAT! The DRL function doesn't come on with the ignition being on (like today's car lights) have to turn on my parking lights. fixed that issue by finding a key-on terminal in the fuse box and the proper parking light lead to the pk light on the pin connector. Cut soldered the wires @ the pin connector, now front DRLs work w/o the rear lights being on during run time.

My only 2 questions are:
I have found LED fan-less fog/headlight for the H1 style bulb that mine are. I know they'll fit, but do you suggest I install them?
also what is/are the two pigtails coming out of the back of the headlight units? They both have a weather proof 2 wire pin connector.

Jun 26, 2018
Location (Sity, State):
St Gabriel, LA
Vehicle:
Chevrolet Silverado
Spec-D headlights are pretty much okay, yet I didn't like that they do not include bulbs along with the headlights. That's why I'm giving them 4 stars. Cheers!
Jun 8, 2018
Location (Sity, State):
Atlanta, GA
After headlights of my BMW faded and cracked, I had to think of the new headlight set. BMW dealership wanted something around $1.5K for ONE headlight, so I decided that I do not feel I want to spend that much and ordered Spec-Ds (they were around $350). They look cool and they've been on my BMW for around a year, and everything's fine.
May 14, 2018
Location (Sity, State):
Shelbyville, TN
I like my Spec-D lights for the F-150. They look great and are cheaper than the OE headlights.
Questions & Answers