OPT 7 FluxBeam LED Headlight Kit
January 23, 2023
Opt7 headlight LED bulbs are trendy these days. If you are looking for quality interior lights, replacement headlight parts, headlight bulbs, or a brand-new HID kit, consider products by this manufacturer. Many people use them for off-road drives, and when they participate in car shows.
In reality, aftermarket led replacement bulbs are illegal in some states, so if you plan on using Opt7 lights, make sure you are aware of the legal aspect in your state. If you are looking for replacement halogen bulbs, it is always a good idea to consider white ones, as they are bright enough and you will benefit from this. However, if you wish to add that aggressive show-car look to your ride, consider a wheel well kit or a set of underglow lighting by Opt 7.

OPT 7 Lighting
The latest technologies strive to improve your driving experience. So, LED headlight bulbs are extremely popular these days, due to their durability, brightness, and efficiency. Halogen bulbs are now a thing of the past and they have so many downsides. This is what makes LED headlights much better, due to their level of efficiency. Opt7 is a renowned manufacturer of high-quality lighting for cars, for over 2 decades.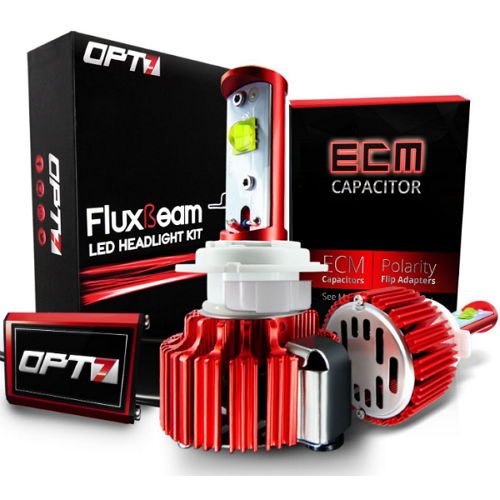 The Opt7 FluxBeam LED headlight kit is one of the top-notch products by this company. This is a reliable headlight kit, which ensures that your path is clearly illuminated.
Features
Redline Control Driver. This is a modern feature, which has been included in the kit and will optimize your connection. The ultra-efficient chip will provide a reliable light pattern.
FluxBeam Technology. With this headlight kit, there are no dark spots, as this technology will provide a light pattern with exceptional density. This is possible due to the TurboCool fan with dual speed, which makes it twice faster than the standard rate. This is what they call the Arc-Glass Technology, which works with the CREE MK-R LED.
Plug and Play. The kit will work with any type of vehicle housing and does not need any complicated installation and mounting. The whole process is pretty easy and does not require any technical skills. If you can change a light bulb, then you should not have any problems with this kit.
Dual Beam Bulb. You are guaranteed to get up to 4,200 lumens with a 40W Opt7 LED bulb. This is made possible by the dual-beam bulb, which will provide a clear light, consistently.

OPT 7 Lighting
The Pros
One of the amazing advantages of this kit is Arc-Glass Technology, which makes the bulbs quite powerful. As a result, you will get consistent light beam patterns, without any dark spots.
The fact that the Opt7 FluxBeam LED headlight kit is compatible with almost any type of vehicle housing is a big advantage. It is a plug and play kit, which does not require any special things to be installed.
The lifespan of the LED bulbs in this kit is 50,000 hours, which means that they can keep burning continuously for 6 years, 24/7.
Generally, LED bulbs usually produce a lot of heat. However, the bulbs on this kit have a cooling system, which is made up of dual-speed TurboCool fan and an aluminum heat sink, which contribute to the prolonged lifespan.
The process of installation is pretty easy and straightforward. You will get an instruction manual that will give you directions on how to install the Opt7 FluxBeam LED headlight kit properly.
What are the Disadvantages?
The bulbs are not as bright as they are said to be.
In some instances, some customers complained that the orientation does not work for their vehicles.
There have been cases of flickering when the lights are running, which can be rather irritating.
While the Opt7 FluxBeam LED headlight kit may not get 5 stars, the advantages outweigh the disadvantages. The few complaints from customers are being addressed by Opt7. The positive feedback is amazing and this may be among the best LED headlight kits on the market. It is certainly a worthwhile investment.
ABOUT
Steven is a certified mechanic and technical writer at Halo Headlights. Steven is excited about fast cars, loud music and car mods. On yearly basis he visits SEMA, as well as other car shows. He has installed thousands of HID and LED kits and did hundreds of custom headlight retrofit projects. Now, he is ready to share his experience with Halo-Headlights.com readers.
---