Kensun New Tech LED Conversion Kit
January 23, 2023
LED headlight bulbs are so popular today. These headlight bulbs are way brighter than the regular OEM bulbs, they last longer and are quite affordable. If you think of getting an LED conversion kit by Kensun, check out our review to find out strengths and weaknesses of this product before you purchase one.
When it comes to the LED headlight conversion kits, Kensun is one of the market leaders in the industry. As for this particular kit, it is quite versatile and the LED bulbs are quite bright, giving you about an additional 30% brightness. The slick aluminum case that the kit has is meant to ensure that the bulbs are safe.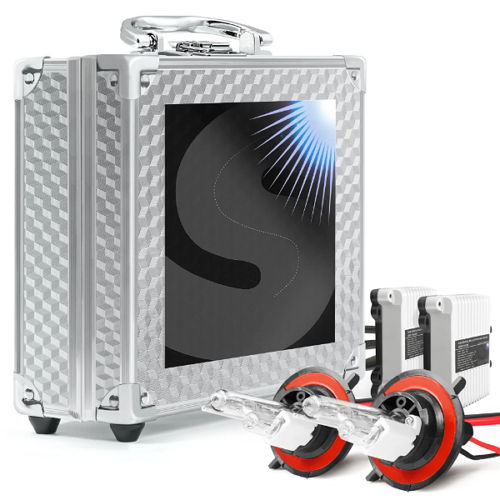 Everyone needs to be safe on the road and this is what the Kensun New Technology All-in-One LED Headlight Conversion Kit guarantees. You will not only be able to see the road clearly but also will not affect oncoming vehicles with too much light. This is a reliable LED headlight kit, which gives you the comfort of clear vision when driving in the dark.
Features
Unlike the halogen bulbs, the LED bulbs in this kit will convert most of the energy that they get to light and not heat. As such, the bulb surface will hardly get hot, even when using it for longer periods.
The built-in heat sink and cooling fans on the bulbs will keep them cool at all times. This prevents the heating of the essential components and as such, you will prolong the lifespan of this kit.
The LED headlight kit has a lifespan of over 30,000 hours when running on 30 watts, this is made possible by the cooling features.
The kit provides clear light with a beam of 6000k ultra-light, which is white in color. However, the kit also has blue and yellow tint covers, which you can be interested in.
These LED lights are waterproof, which means you can submerge them in water and they will still work as required.
What are the pros?
Lights up a Long Distance. Generally, these lights are far-reaching and when you drive in the dark, they will illuminate up to ¼ of a mile down the road.
Compact and small size. Due to the small size of the bulbs, you will be able to get more flexibility as you can use them on different types of vehicles.
Energy Efficiency. This kit is highly energy-efficient and produces more light than ordinary bulbs.
Plug and Play. There is no complication required when it comes to the installation and use of this kit. You will just connect it and turn it on, without any provision for warm up time.
Longevity. The lifespan of 30,000 hours is also backed up with a 2-year warranty, which is an assurance of the quality of the kit.
Cons
The biggest complaint about the Kensun New Technology All-in-One LED Headlight Conversion Kit is the pattern of the beam light, which seems to be inconsistent. The visibility is barely perceptible, which is a concern for some drivers.
Conclusion
Over and above, the Kensun New Technology All-in-One LED Headlight Conversion Kit is quite unique and is made by a renowned brand. The blue and yellow color tints are some of the features that excite most customers. The two-year warranty is a backup in case you experience some problems with the LED headlight conversion kit.
ABOUT
Steven is a certified mechanic and technical writer at Halo Headlights. Steven is excited about fast cars, loud music and car mods. On yearly basis he visits SEMA, as well as other car shows. He has installed thousands of HID and LED kits and did hundreds of custom headlight retrofit projects. Now, he is ready to share his experience with Halo-Headlights.com readers.
---