Best HID Kits
February 8, 2023
If you are looking for a quality HID conversion kit that will be bright and safe to use, consider our buyer's guide. We have compared the most popular HID kits from Amazon, Walmart, and other sources and came up with a complete guide, that will explain the strengths and weaknesses of these lighting products.
UPDATED for 2020: In this buyer's guide, we will go over the most popular HID kits, along with reviews that are available on Amazon, in the automotive forums, in youtube video reviews, etc. Let's dive into it! Having the right headlights can make all the difference between a safe drive home and a dangerous one. Unfortunately, standard halogen and incandescent bulbs are not the brightest solutions. And if you live in the area, that requires extra brightness, you may be interested in getting a pair of quality HIDs instead.

On the other hand, LED lights are brighter and last longer, they are normally more expensive. There is a middle of the road solution, however. HID headlights can provide you with increased visibility, without burning a hole in your pocket.
8 Best HID Kits For The Money
Halogen bulbs are comparatively inexpensive, last long enough, and actually cost more to use because they use a considerable amount of energy to run. These particular lights are structured in a way that makes them more effective at producing heat than light, which means they use up more energy.
Halogen bulbs are designed to employ a tungsten filament surrounded by a chamber of halogen gas, hence the name. As the current passes through the filament, it heats up and emits light. However, the excess heat actually means that the filament is being worn through at a faster rate, which is why many halogen lamps need regular replacement.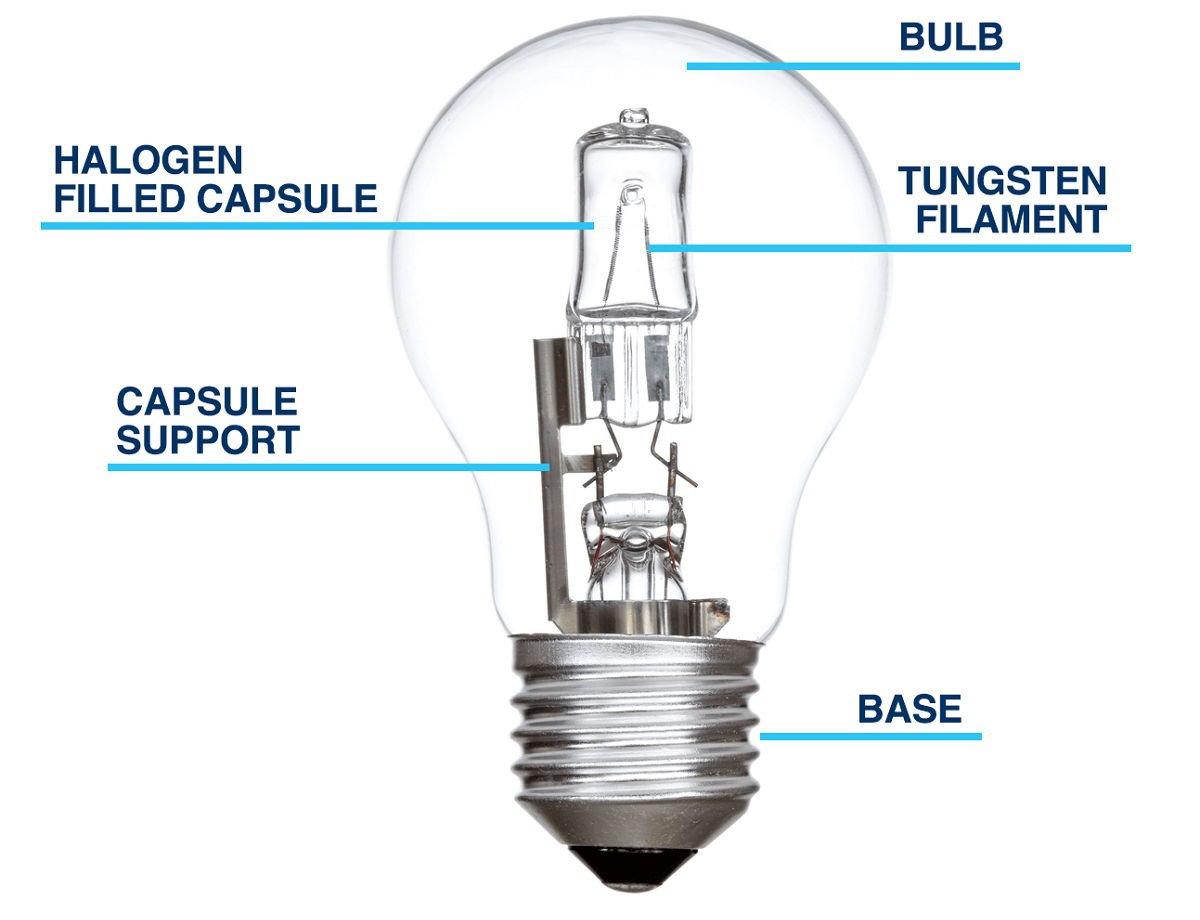 HID, or Xenon lights are an effective solution because they aren't made with a filament that burns out. Instead, they rely on a xenon gas chamber that is powered by an electrical current. As the gas heats up, it emits light.
The reason why HID headlights are more preferable than halogen lamps is that they save energy and, therefore, last longer. In some cases, HID headlights can produce more than 3 times more light than the halogen produces while using about 80 percent less energy.
Not all HID headlight bulbs are the same though. One of the reasons why HID headlights can be intimidating for many drivers is their fragility. These particular bulbs can be incredibly delicate to the touch, and can easily crack, break, or simply die out over time. Of course, the more inexpensive the unit is, the more likely this is to be a problem. Pricier HID headlights are simply designed with materials of higher quality, so they last for lengthier periods of time.
Additionally, this higher level of fragility makes these lights a more expensive option since they're prone to malfunctioning at quicker rates. On the other hand, the brightness behind HID lights out ways their flaws. However, finding a set of bright HID lights that are both durable and affordable is possible. This review is designed to work as your handbook to the best HID headlights on the market.
We've done research and looked out countless reviews to find the top eight conversion kits for your vehicle. Read on to discover the best HID bulbs you can find today.
HID Headlight Conversion Kit Reviews
Kensun New-Tech: Best HID Kit for 2020 (Editor's Choice)
If you need the best HID kit on the market, then you'll want to pick the Kensun HID Xenon conversion kit. Kensun is recognized by reviewers as one of the best brands for replacement lights. In fact, this particular kit is so popular that it's the number one bestseller for HID kits on Amazon.
But the great thing about these HID lamps is that they're high quality and affordable. You get a kit that's designed to last for thousands of hours for less than $40. This particular unit is quite easy to install, compared to similar HID kits. That's why we consider it one of the best HID conversion kits available today.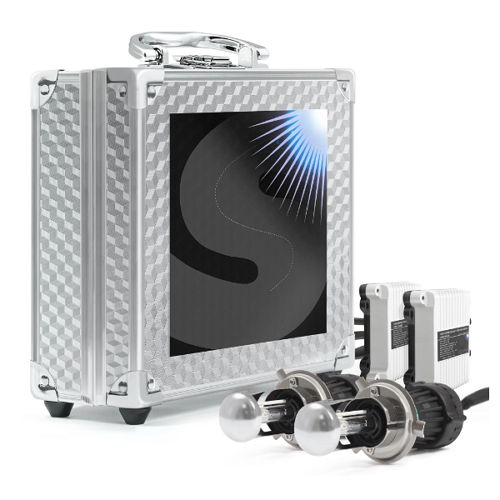 Give the amount of light that these HID headlights produce, and the fact that they use less energy. So, these are a great option for any driver who wants the benefit from brighter headlights but doesn't want to commit to an LED bulb kit. These HID headlights are designed to be waterproof and shock-resistant and live up to that promise.
Some reviews even cite that these HID headlights have the capacity to last up to 3 years or more, something that's incredibly rare among competitors. To top it all off, the entire set comes in an aluminum case that makes storage for later use a breeze and also protects the bulbs from damage prior to installation.
Innovited AC 55W Hid Conversion Kit
The convenient thing about the Innovited AC 55W HID Xenon Conversion Kit is that you really know what to expect with these HID lights. With an average lifespan of 5,500 hours, you can expect these bulbs to last just under a year, given that you regularly drive your car at night. Priced at just under $40, that's a reasonable lifespan.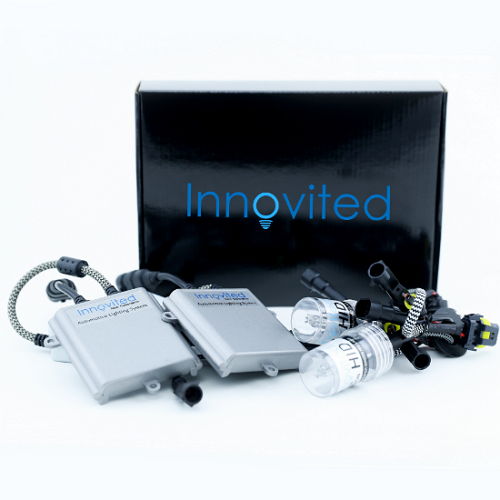 This is also one of the best HID kits available on the aftermarket, featuring slim ballasts that have been sealed with rubber to make them water-resistant. The brightness on these HIDs also provides drivers with increased visibility compared to halogen lights. The product is also covered by a one-year warranty, which includes replacing any malfunctioning bulbs or ballasts.
One thing to keep in consideration before purchasing these HID headlights, however, is the compatibility with your vehicle. Not all kits are designed to work with certain vehicles, so make sure you double-check the size and power compatibility before installing. Some vehicles may also require additional modifications before installing. However, these things still allow this unit to be one of the best HID kits on the market.
Safego HID DC "Slim" HID Conversion Kit
If you're looking for HID lights that are both inexpensive and designed to last, then this HID conversion kit is for you. Unlike other affordable kits that provide increased brightness but simply aren't reliable, these HID headlights are built to be durable.
The biggest problem that most drivers experience with HID headlights is that the bulbs are incredibly delicate and sensitive to even the slightest change in pressure or even touch. That's not the case with SDX kits, however. These kits are designed to be shock-proof, water-resistant, and capable of withstanding fairly dismal weather. The slimmer ballasts also make these lights compatible with a wider range of vehicles.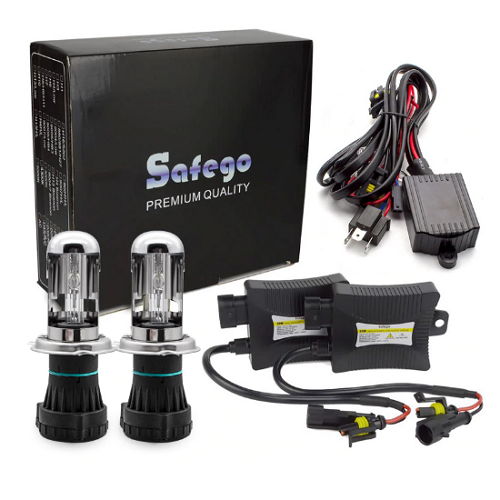 In general, if you're looking to upgrade from halogen lights to brighter lights without going over your budget, then you'll find that SDX constructs some of the best HID kits available. This company designs some of the highest quality parts on the aftermarket, so you can rest assured you're getting quality lamps at a good deal.
In fact, SDX headlights are almost three times brighter than halogen and last significantly longer. The only real problem with these HID lights tends to be that extreme wind, rain, or snow causes them to flicker.
XENTEC 6000K Hi/Low HID Conversion Kit
When it comes to headlights, the XENTEC 6000k Hi/Low HID conversion kit lands in the top four of the best HID headlights in light of its affordability, brightness (up to 3,500 lumens) and ease of installation, making conversion quick and painless.
Additionally, these HID headlight bulbs are designed to limit the amount flickering you experience with your headlights and are specifically tested to reduce that effect. If you do happen to notice excessive flickering, you may want to reexamine the connection. It may be a problem with the power supply, as the manufacturer suggests.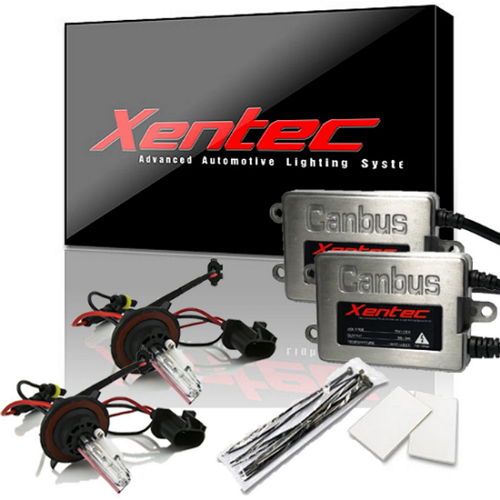 Despite the claims that these HID headlights are supposed to last up to 5,000 hours, you may still experience some problems with quality. Remember, HID lights are incredibly sensitive and can burn out relatively quickly. More inexpensive models only heighten that sensitivity. Another drawback to these specific HID headlight bulbs is that they're designed with a set range of car compatibility, which means that certain vehicle models may require additional modification before installation.
OPT7 Blitz Bullet HID Kit
What sets this kit apart from others on the market is that it's designed for maximum diversity. The bulbs on this product are designed to be small, making them a perfect match for almost any vehicle. Yet, don't let the size of the ballasts fool you. These HID lights are about 357% brighter than traditional halogen headlights.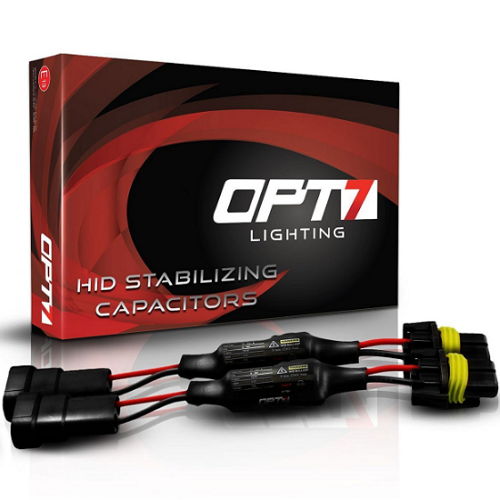 As an added bonus, this HID kit is truly plug and play. Additionally, despite their affordable price, these bulbs are backed by a two-year warranty. Unfortunately, like a lot of other inexpensive HID conversion kits this unit isn't designed to last forever, which is why it lands at number 5 on the list of the best HID kits on the market. Most reviewers report experiencing a problem, such as a dead bulb or flickering, after some time. Given that this is an affordable model, however, it's a worthy investment if you're looking to upgrade your lights without shelling out hundreds of dollars.
Apex Xenon Hid Conversion Kit
With digital ballasts, easy installation, and a two-year manufacturer's warranty, the Apex 9006 Xenon HID Conversion Kit is one of the best in this price range. Among online reviews, Apex is one of the most highly recommended brands when it comes to HID headlights. Even though their HID headlights are affordable, the company still makes an effort to ensure the best customer satisfaction and upholds the warranty with strict adherence.
Given that many HID headlight manufacturers have flooded the aftermarket, you'll find that both Apex and their bulbs are a breath of fresh air when it comes to finding a company willing to do right by its customers.
These headlights are incredibly bright, with the capacity to light up very dark roads without depending on your high beams. The HID conversion kit comes in seven different colors, which range in temperature from 3,000k to 30,000k. These lamps also have the capacity to last up to 10 times longer than standard HID headlights.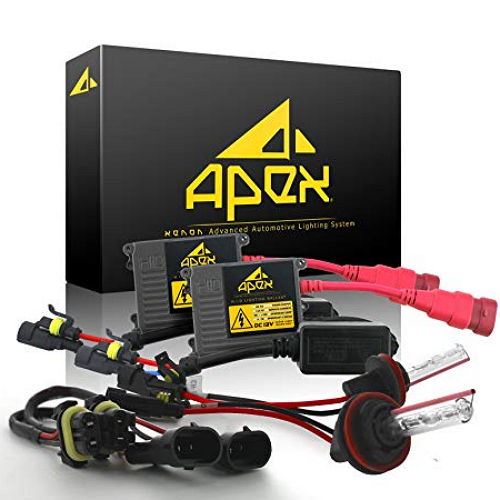 The real pitfall of this conversion kit is the ballasts. The ballasts used on this particular kit have the tendency to malfunction relatively quickly, with some reviews citing a problem in as little as a week. On the other hand, what really makes this HID conversion kit worth every penny is the company, which is willing to replace problem parts.
SDX Headlight DC Xenon 'Premium' HID Headlight Kits
If you need headlights that are very bright, then the SDX HID Headlight DC Xenon 'Premium' conversion kit might just be the best product for you. With this kit, you can get HID headlights that are up to 15,000k. The bulbs in this kit come in a variety of colors and sizes, so not only can you personalize them to fit your tastes, but also there's also a wider range of compatible vehicles that these headlamps fit.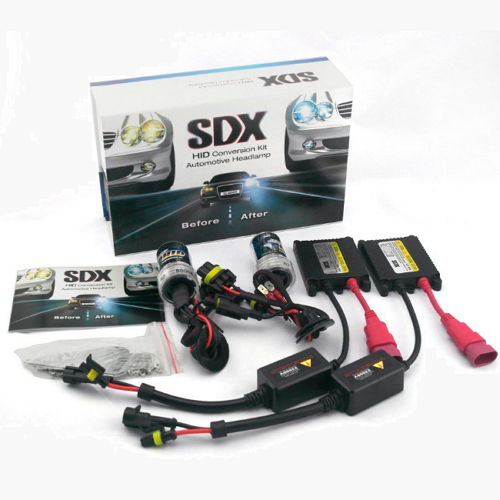 As an added benefit, these headlights are very affordable. Additionally, reviewers report that these are high-quality HID headlight bulbs are made by a company with excellent customer service. In most cases, if you experience problems with your bulbs you can call the manufacturer and they will help you troubleshoot the issue. If that doesn't solve the problem, they usually will replace them.
Considering the price, these HID headlights are a great option for anyone seeking conversion to a set of headlights that will last for a long time. However, they aren't issue-free. Since they are made of inexpensive materials, these lights are more prone to experiencing troubleshooting issues, like flickering or simply dying out quickly.
OPT7 Bolt AC 55W Hi-Power HID Headlight Kit
The nice thing about the OPT7 Bolt HID Kit is that it comes in multiple colors, which is perfect for those who don't like the blue-white color of LEDs. With this kit, bulbs come in yellow, ice blue, deep blue, or lightning blue. Installing these lights is also fast and easy, thanks to its plug and play design.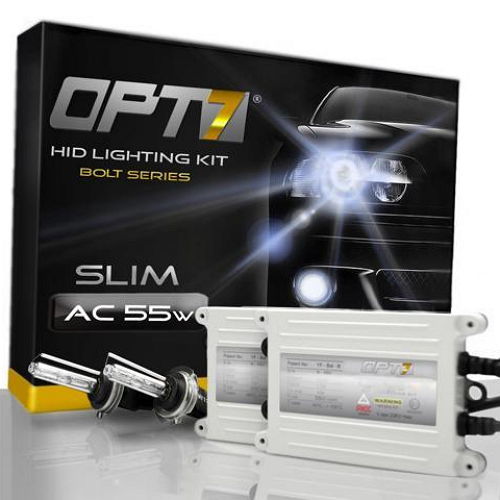 Since this product is designed by OPT7, a company that's known for making affordable headlights, you can be sure that these HID headlight bulbs are bright and fairly durable. This kit is even backed by a two-year manufacturer's warranty. Unfortunately, you may just find that you'll have to depend on this warranty, which is why this unit is last on the list of the best HID headlights. Although it is affordable, and one of the best HID kits, you may just find that you get what you pay for.
Many reviews report that these HID headlights simply stop working in as little as one week. OPT7 can and does replace headlights that stop working, as long as it's within the terms of the warranty. However, having to regularly replace the headlights may be an issue of convenience for some drivers.
ABOUT
Steven is a certified mechanic and technical writer at Halo Headlights. Steven is excited about fast cars, loud music and car mods. On yearly basis he visits SEMA, as well as other car shows. He has installed thousands of HID and LED kits and did hundreds of custom headlight retrofit projects. Now, he is ready to share his experience with Halo-Headlights.com readers.
---