Chameleon Headlight Tint
January 18, 2023
Chameleon headlight tint is a great and inexpensive way to dress up your headlights and add that show-car look to your ride. There are many great chameleon headlight tint options available on eBay, Amazon, and in-car part stores. Yet, it may be difficult to choose a quality product among dozens of offers. So, we are here to share our impressions on certain headlight tint films we've tested.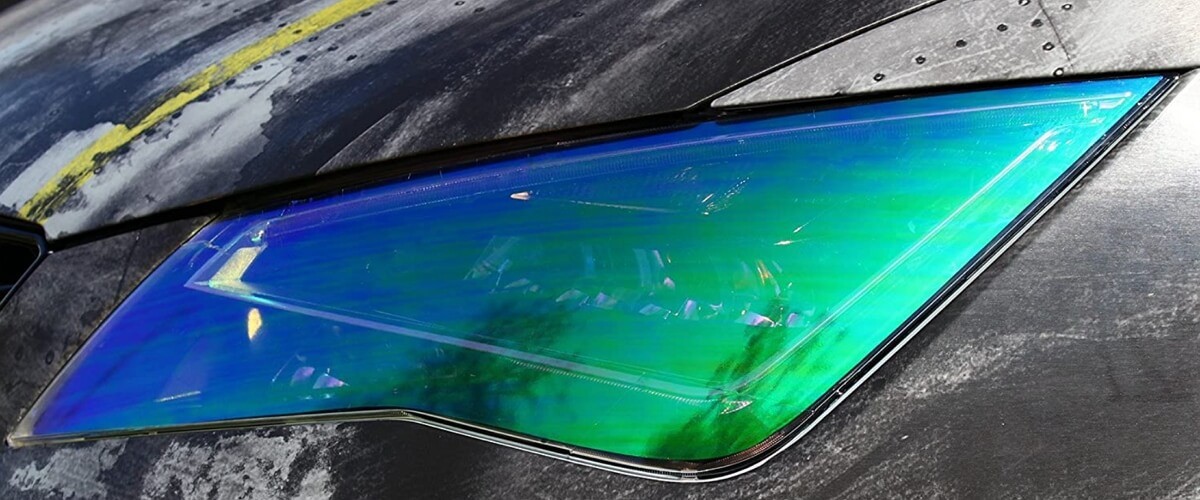 Note, that you will not see a huge list of the best products, as our aim is to give you the real information we got from our own experience, not just from the internet.
The Main Features of Chameleon Tint
As a rule, chameleon tint film is an 85% VLT shade color change vinyl wrapping film. The majority of chameleon headlight tint wraps are made both for DIY and professional installation. So, you can save and not hire a shop to do the job for you, as all films come with the instructions included. The film itself is optically clear, so your headlight light will not change color because of the color-changing wrap applied. In other words, you will tint light housing without affecting the light output.

Chameleon Headlight Wraps
What lights can I tint using the wrap?
You can wrap headlights, tail lights, fog lights, and auxiliary lights of your vehicle:
cars;
trucks;
ATVs;
UTVs;
motorcycles;
scooters;
mopeds;
golf carts.
Why Buy Chameleon Headlight Tint?
The majority of people who buy chameleon tint do it to jazz up the look of their vehicles. Such upgrade is inexpensive, yet looks exciting and trendy. Many people have seen such an upgrade on the show cars, race cars, etc. So, they add that color-changing film to wrap the headlights, tail lights, fog lights, and auxiliary lighting. As a result, they make their ride look distinctive and unique and be the envy of their friends.
Color-changing vinyl headlight wrap is designed for easy and quick installation with no extra tools required. So, you can do the job by yourself without having to hire a shop to do that. Usually, the manufacturers add detailed installation instructions to the package along with a QR code that you can scan to get quick access to the installation video instruction.
What to Look for Before Buying?
We know, that there are so many great products, and it may be hard to pick just one. So, here's a list of great tips that you are welcome to consider to choose a great product at a fair price.
Cashback for photos. You may be surprised, but Rtint and several other manufacturers of chameleon headlight tints offer small cashback ($20-$30) if you provide 5+ photos of the installation process. So, you can earn some money, save on installation by doing it on your own, and the manufacturer will share your photos on their social media.
Check the warranty. Cheap and low-quality headlight tint films say nothing about the warranty. If you see, that warranty information is missing in the product description, it's better to message the manufacturer and check it out before placing your order. In general, quality chameleon headlight tint is backed up by a 1, 2, or even a 3-year warranty.
Legal aspect. Before buying a headlight wrap kit, it is a good idea to make sure such mod is street-legal in your area. In general, such mod does not change the color output or beam pattern, so it should be fine. Yet, it's always better to double-check, than get a ticket.

Chameleon Headlight Wraps
How to Install Light Tint Film?
The installation process depends on the type of wrap you purchase. The most popular self-adhesive semi-permanent headlight tint films are applied with the wet application method. Generally, you do not need any expensive tools or specific technical skills to do that. The installation process will take you around 1 hour.
You will need:
a little heat;
squeegee out the air and fluid;
trim to fit with a razor blade.
The quickest way to get detailed installation instructions on the specific color-changing headlight wrap is to google the name of the brand followed by the 'installation instructions' and then just go to the YouTube section of the Google search.
Note, that there is no need to search for the installation video for a specific year, make, and model, as the process does not really depend on this and is pretty much similar for all vehicles. Yes, some headlights may be a bit more complex to shape the film for, but you will cope with no problem if you have a good and sharp razor handy.
Here are the factors that may slightly influence the amount of time needed for the installation:
your skill level;
quality of chameleon headlight tint wrap;
the complexity of the surface that you are about to wrap;
using the right tools and fluids.
---
Steven is a certified mechanic and technical writer at Halo Headlights. Steven is excited about fast cars, loud music and car mods. On yearly basis he visits SEMA, as well as other car shows.
He has installed thousands of HID and LED kits and did hundreds of custom headlight retrofit projects. Now, he is ready to share his experience with Halo-Headlights.com readers.
---