Top 5 Most Luminous H11 LED Headlight Bulbs of 2023
June 15, 2023
In recent times, LED technology has drastically transformed the automotive lighting industry. Its energy efficiency, extended lifespan, and enhanced brightness make it an appealing option for vehicle owners. If you're seeking a new H11 LED headlight bulb as a replacement for your default halogen bulb, it's crucial to find the brightest LED bulbs to ensure maximum visibility during nocturnal or adverse weather driving.
So which H11 LED headlight bulbs are the most luminous on the market? This article provides an in-depth look at some of the leading options for high-brightness H11 LED bulbs and details their features, advantages, and disadvantages. Besides, we have collected the results of the latest research, polls and studies about the LED headlights that will be definitely of interest for you.
Selecting The Most Luminous H11 LED Bulb
#1. Hikari: The Most Luminous H11 LED Bulb With Optimal Cooling
Hikari H11 LED headlight bulbs are the ultimate choice when you're looking for the most luminous H11 LED headlight bulb. These bulbs deliver 180W 21600LM per set and 6500K daylight which provides an expansive and far-reaching visibility at night. The ultra-high brightness they produce is ideal for nighttime driving, particularly in rural areas or poorly lit streets.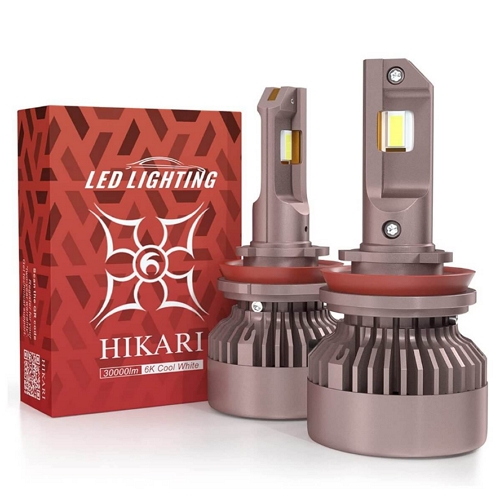 The Hikari LED headlight kits are developed with a "Safe Beam Strategy," meaning these bulbs will emit a highly-focused beam pattern with a clear and uniform cutoff light, preventing glare for oncoming drivers.
In comparison to halogen bulbs, the Hikari H11 LED headlight bulbs have significantly improved in terms of heat dissipation. They feature dual copper heat pipes that conduct 30W of heat each time. In addition, these bulbs possess a 6063 aluminum heat sink and high-speed silent fan, resulting in a heat dissipation capacity three times faster.
A modern, high-end look is achieved through the lamp body of the Hikari LED headlight bulbs, designed as two extended eagle wings, enhancing both the style and brightness of your vehicle at night.
With a detachable and adjustable adapter, these H11 LED car light bulbs can easily fit into either the reflector or projector headlight assembly. The identical socket to the OEM bulb makes the Hikari LED headlight bulbs incredibly easy to install without any modifications.
Energy.gov on LED Lighting (2020): The U.S. Department of Energy indicated that in 2020, LED lights consumed 75% less energy and lasted 25 times longer than incandescent lighting. This information is pertinent to consumers looking to not only improve the brightness of their headlights but also reduce their vehicle's energy consumption. Source: Energy.gov – LED Lighting Facts
Features
High-intensity 90W flip chip
Contemporary eagle design
6500K daylight white
50,000 hours lifespan
Clear and uniform light beam pattern
Larger heat pipe for improved heat dissipation
#2. Fahren: The Most Luminous H11 LED Headlight Bulb For Easy Installation
The Fahren H11 LED headlight bulb is a prime choice for those who require superior brightness along with an easy installation process. With a high output of 110W 13200LM, these bulbs are considered one of the most luminous H11 replacement headlight bulbs. Their patented flip chip effectively transfers power to create a high-quality beam. Additionally, the Fahren H11 LED headlight bulbs boast a broader, clearer, and uniform light beam pattern without any scattered light or dark spots.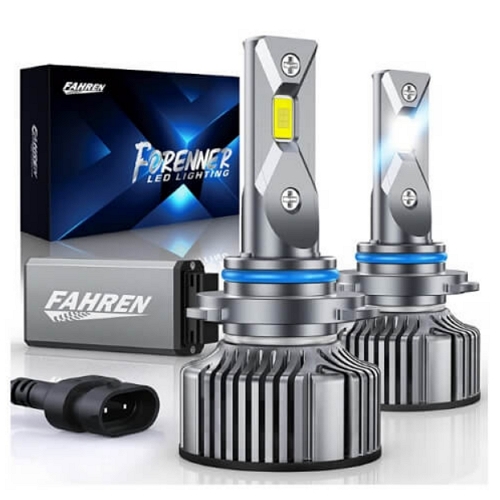 Installation concerns? The Fahren H11 LED headlight bulbs utilize a 1:1 mini design the same as halogen, and the compact heat sink allows them to perfectly fit into your headlight housing without any modifications.
In terms of heat dissipation, the Fahren H11 LED light bulb has made great strides. For enhanced and faster cooling, the LED bulbs are designed with a larger copper heat pipe capable of converting 20W of heat. Accompanied by an 8500 RPM silent fan and a 6063 aluminum heat sink, these LED headlight bulbs assure a lifespan of over 30,000 hours.
SAE International Research on Glare from Vehicle Headlights (2023): In 2023, SAE International published a technical paper on the measurement of discomfort glare from vehicle headlights. The paper aimed to establish a more accurate way to measure glare, which is important for car owners looking to upgrade to brighter headlights but concerned about the impact on other drivers. Source: SAE International – Discomfort Glare from Vehicle Headlights
Features:
High-output 110W 13200LM
Patented flip chip technology
Uniform light beam pattern without scattered light
1:1 mini design for easy installation
Copper heat pipe for efficient heat dissipation
30,000+ hours lifespan
#3. Sealight: High Luminosity and Silent Cooling System
Sealight H11 LED headlight bulbs offer a great combination of luminosity and efficient cooling. With an output of 100W 13000LM, these bulbs ensure superior brightness. The beam pattern is uniform and focused, reducing glare for oncoming drivers.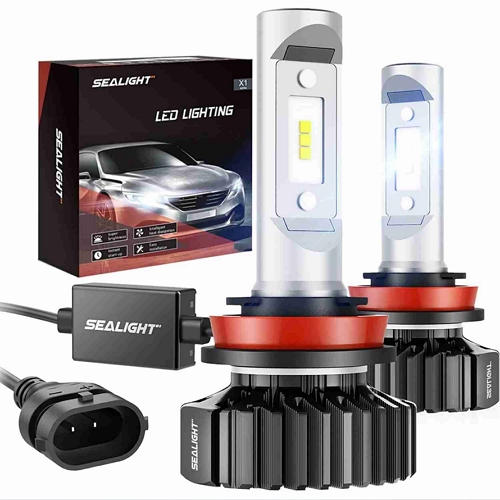 Sealight H11 LED headlight bulbs feature a built-in intelligent driver which helps in ensuring compatibility with most vehicle's computer systems. The cooling system includes a silent, high-speed fan and an aluminum heat sink, ensuring efficient heat dissipation without generating noise. The lifespan of these bulbs is rated at 30,000 hours.
Consumer Reports on Headlights (2022): In 2022, Consumer Reports stated that more than half of the headlight models they tested were rated as marginal or poor in their performance. They also indicated that LEDs and HIDs generally performed better than halogen headlights but advised consumers to check their individual car models for compatibility and performance. Source: Consumer Reports – Getting the Best Headlight Bulbs for Your Car
Features:
100W 13000LM output
Intelligent built-in driver for wide compatibility
Silent high-speed fan for cooling
30,000 hours lifespan
Uniform, focused beam pattern
#4. Cougar Motor: Supreme Brightness and Longevity
Cougar Motor H11 LED headlight bulbs are known for their impressive brightness and durability. They produce an output of 100W 12000LM and have a cool white 6000K light, which ensures greater visibility and clarity during night driving.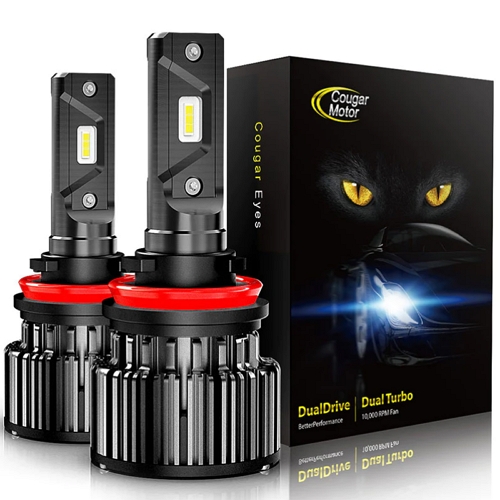 Cougar Motor utilizes a TurboCool fan which runs at 10,000 rpm, providing super-efficient cooling that contributes to an extended lifespan of over 50,000 hours. The bulbs have a plug-and-play installation and are CAN bus-ready for 98% of vehicles.
SEMA Market Report (2021): The Specialty Equipment Market Association (SEMA) 2021 Market Report indicates that automotive aftermarket sales reached $47.89 billion in 2020, up from $46.20 billion in 2019, despite the pandemic. The report also includes information on automotive lighting upgrades, a segment that is expected to grow as car owners continue to seek high-performance lighting solutions. Source: SEMA Market Report 2021
Features:
100W 12000LM output
Cool white 6000K light
TurboCool fan for efficient cooling
50,000+ hours lifespan
Plug-and-play installation
#5. Beamtech: A Balance of Brightness and Affordability
For those who are seeking a balance between brightness and cost-effectiveness, Beamtech H11 LED headlight bulbs are an excellent option. These bulbs produce an output of 8000LM and have a 6500K xenon white color temperature, providing a bright and clear beam pattern.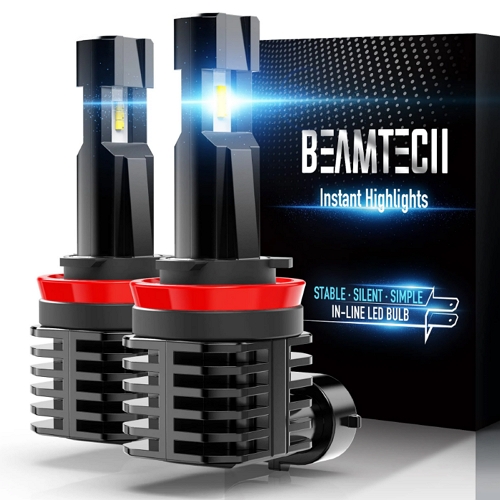 Beamtech H11 LED headlight bulbs use CSP LED chips, which create a perfect beam pattern without any dark spots or foggy light. They also have a lower power consumption compared to halogen bulbs and a lifespan of over 30,000 hours.
IIHS Headlight Ratings (2016-2021): The Insurance Institute for Highway Safety (IIHS) began evaluating headlights in 2016. As of 2020, only 20 out of 185 models earned the highest rating of "Good" for their headlights. In 2016, the first year of evaluations, only two of 95 headlight systems tested earned a "Good" rating. Source: IIHS Headlight Ratings
Features:
8000LM output
6500K xenon white color temperature
CSP LED chips for a clear beam pattern
Low power consumption
30,000+ hours lifespan
Professional Advice
When choosing H11 LED headlight bulbs, it's essential to consider not only the brightness but also the beam pattern, cooling system, and compatibility with your vehicle. The options listed above are some of the most luminous H11 LED headlight bulbs available in 2023 and offer a range of features to meet different needs and preferences. Whether you prioritize maximum brightness, easy installation, or longevity, there's likely an option that suits your requirements.
Key Considerations for Selecting Premium H11 LED Bulbs
Selecting high-luminosity H11 LED bulbs for automotive headlights is imperative for enhanced luminescence and longevity. This translates to crisper light, superior visibility, and ample reaction time for safe driving. The objective is to find the most luminous and top-quality H11 LED headlight bulbs at a competitive price. Below are crucial pointers to aid in identifying the top-tier H11 LED headlight bulbs in the marketplace:
Vehicle Compatibility Initial considerations should involve verifying the compatibility of the H11 LED bulb with your vehicle, as not every bulb is suited for your vehicle's system. Consult your owner's manual, or utilize specific tools to ascertain your vehicle's bulb type. Besides, they work great as high- and low beams.
Luminosity Premium H11 LED headlight bulbs should offer exceptional brightness for optimal nighttime visibility. The LED chip's quality has a significant impact on lighting performance. Opt for flip chip technology, which consumes less power while generating intensified light. When juxtaposed with COB and CSP, flip chip technology boasts superior power, denser light, cost-effectiveness, and exceptional light distribution within the headlight housing.
Beam Pattern Precision The cream of the crop among H11 LED headlights will exhibit a beam pattern engineered to focus light efficiently without generating glare for oncoming traffic. Elite LED headlight bulbs should produce a broader and farther-reaching light range accompanied by a distinct cutoff line devoid of dark spots or glare. The state-of-the-art H11 LED bulbs employ an optical array of chips to circumvent the glare typically produced by high-output LED bulbs.
Robustness High-caliber H11 LED headlights must be designed for endurance. Opt for H11 LED bulbs constructed from 6063 aviation-grade aluminum and accredited with an IP67 rating, as this will offer substantial protection against corrosion. Employing multiple cooling techniques such as copper heat pipes, high-velocity fans, and thin copper substrates will result in superior cooling. Additionally, a generous warranty can offer additional assurance and may be indicative of the manufacturer's confidence in the product's durability.
Hassle-Free Installation Plug-and-play H11 LED headlight bulbs are crafted to provide an effortless and direct replacement for your vehicle's stock headlights. They utilize the same electrical connectors as stock halogen bulbs, allowing for simple installation without the need for vehicle modifications.
Manufacturer's Reputation Procuring H11 LED headlight bulbs from a reputable manufacturer increases the likelihood of obtaining high-grade products. Especially when purchasing LED headlight bulbs in bulk from a distinguished supplier, there is greater assurance of receiving a well-crafted product at an advantageous price point. Furthermore, a reputable company is more likely to stand behind its products with exceptional customer service.
For an in-depth understanding of selecting the best-LED headlight bulb, refer to our previous blog post: 7 Tips for Selecting the Optimal LED Light for Your Car.
---
FAQ
Is there Interchangeability among H8, H9, and H11? Many product descriptions group H8, H9, and H11 together. Indeed, H8, H9, and H11 are interchangeable with regard to LED headlight bulbs. This is attributable to several automotive lighting manufacturers, including OSRAM, Philips, and Hella, using distinct part numbers for the same bulb.
What Distinguishes H11 from H11B Bulbs? H11 and H11B bulbs are not interchangeable due to disparate base shapes. H11 bulbs feature a circular base, while H11B bulbs possess a rectangular base.
Which H11 LED Bulb Reigns Supreme in Brightness? Determining the ultimate H11 LED headlight bulb in terms of brightness is complex, as brightness is influenced by several factors including LED chip type, quantity, luminosity, power, heat dissipation, headlight assembly type, and additional technical support. Various H11 LED bulbs claim to be the brightest; however, the most effective method to gauge brightness is by comparing lux ratings. Higher lux indicates more light being converted into a usable beam pattern.
What is the Typical Lifespan of H11 LED Headlight Bulbs? H11 LED headlight bulbs generally have a significantly longer lifespan compared to halogen bulbs, ranging from 30,000 to 50,000 hours.
Which Vehicles Employ H11 Headlights? H11 is a common bulb type and is widely used in:
2012-2016 Honda Civic Si
2019+ Ford Ranger
2012-2015 Toyota Tacoma
2003-2021 Chevrolet
2004-2021 Toyota
2006-2021 Subaru
2005-2021 Ford
2007-2021 GMC
2006-2021 Honda
Are H11 LED Headlight Bulbs Street Legal? The legality of H11 LED headlight bulbs varies by region and jurisdiction. In the United States, the Federal Motor Vehicle Safety Standard (FMVSS) governs the utilization of aftermarket headlight bulbs.
The above selection represents the most luminous H11 LED headlight bulbs on the market. Which one is the right fit for you? Much depends on your specific needs. If you are in pursuit of high-performance, intense brightness, and durable LED bulbs for your vehicle, these H11 LED bulbs are an exceptional choice.
Seize the most potent H11 LED bulbs now! All orders are accompanied by the most competitive prices and expedited shipping.
---
ABOUT
Steven is a certified mechanic and technical writer at Halo Headlights. Steven is excited about fast cars, loud music, and car mods. On a yearly basis, he visits SEMA, as well as other car shows. He has installed thousands of HID and LED kits and done hundreds of custom headlight retrofit projects. Now, he is ready to share his experience with Halo-Headlights.com readers. If you have questions for Steven, just ask your question using the form.
---