How to install Anzo Headlights on Ford Mustang
January 28, 2023
You will need the following tools to install Anzo headlights (part # 121166):
10 mm socket;
flat head screwdriver;
Phillips screwdriver.
Part 1. Removing the stock Mustang headlights
Remove 3 push-pins on the driver's side radiator shroud. Do the same on the passenger side. Remove the radiator shroud.
Uninstall the 3 screws, that attach the fender shroud to the bumper (both driver and passenger sides).
Remove the fenders from your Mustang. To do this, remove the plastic pins that attach them to the vehicle.
Remove the driving and turn signal bulb from the bumper light housing by twisting the connectors. Do both driver and passenger side.
Remove 3 10 mm nuts that attach the bumper to the fender. Do this on both sides.
Uninstall the 10 mm screw from the top of the bumper. These screws are on both headlights. Next, remove the bumper by pulling it straight out.
Now it's time to remove the 10 mm screw, that is located on top of the headlight. You will also need to remove the push pin, that is in front of the screw.
Next, unscrew 2 10 mm screws at the bottom of the headlight housing.
Now, pull the headlight housing straight out, and disconnect the harness from the bulb.
Part 2. Wiring Anzo headlights for Ford Mustang
Locate the driving light harness. Then, pull the electrical tape back and expose the wires.
Find the halo wires on the Anzo headlight assembly.
Splice the green wire into the power wire of the driving light.
Splice the black wire into the ground wire (driving light).
Part 3. How to adjust Anzo headlights
See the picture of the backside of your Anzo headlights. There are 2 screws that you need to use to align lights. One is for vertical alignment, one is for horizontal. See the instruction provided in this article for details on how to adjust the lights properly.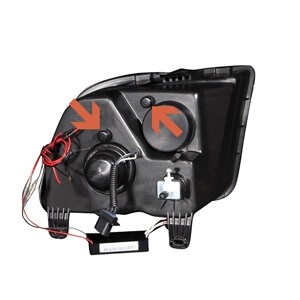 ABOUT
Steven is a certified mechanic and technical writer at Halo Headlights. Steven is excited about fast cars, loud music, and car mods. On yearly basis, he visits SEMA, as well as other car shows. He has installed thousands of HID and LED kits and did hundreds of custom headlight retrofit projects. Now, he is ready to share his experience with Halo-Headlights.com readers. If you have questions for Steven, just ask your question using the form.
---